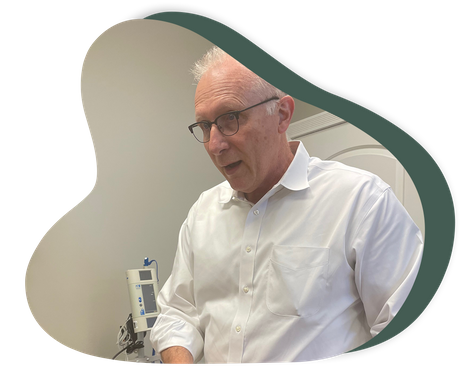 Dr. Greg Owens specializes in female pelvic medicine and reconstructive surgery and provides a full range of gynecologic and urologic services at his practice, Advanced Pelvic Surgery. Women trust his kind and easy-going manner while relying on his medical expertise and specialized training in difficult-to-treat female pelvic floor problems. With a full array of treatment options, Dr. Owens can address your problem and find the right treatment for you. From pelvic floor physical therapy to advanced minimally invasive surgery, he can provide you with quality care and beneficial treatments. Expect exceptional treatment for women's pelvic floor disorders in a relaxing and supportive environment.
Dr. Owens received his medical degree from Louisiana State University Shreveport and completed his residency in Obstetrics and Gynecology at Baylor College of Medicine Affiliated Hospitals in Houston. He was a faculty member for two years at Baylor before moving to Cincinnati to complete his fellowship in Female Pelvic Medicine and Reconstructive Surgery at Good Samaritan Hospital.
He is board-certified in Obstetrics and Gynecology and Female Pelvic Medicine and Reconstructive Surgery by the American Board of Obstetrics and Gynecology. Dr. Owens is a member of the American Urogynecologic Society, the American College of Obstetricians and Gynecologists, the Ohio State Medical Association, and the Butler County Medical Society.
Following his belief that "to whom much is given, much is expected", Dr. Owens is passionate about medical mission work. He has traveled to Africa for fistula surgery, Europe and Russia for drug rehabilitation, and Latin America for primary care and GYN surgery. Treating difficult problems in less-than-optimal conditions has provided Dr. Owens with invaluable experience to help care for his patients.
When he is not practicing medicine, Dr. Owens participates in fitness-related activities, hiking, and outdoor adventures. He loves to spend quality time with his family.
Be sure to learn more about the services we offer and contact Advanced Pelvic Surgery today.